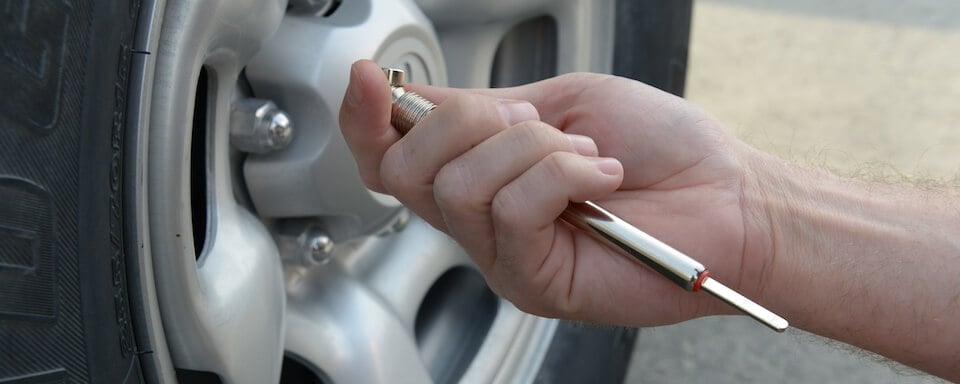 Keep Your Tires Full
Although easy to check, tire pressure is one of the most overlooked aspects of regular vehicle maintenance. Low tire pressure can result in poor handling, excessive tire wear, and reduced fuel economy. High tire pressure can result in reduced traction, poor braking, and even put your tires at risk for a blowout. By regularly checking your tires and maintaining the correct tire pressure, especially during a change in the seasons, you can keep your MINI driving as safe and efficiently as possible.
How to Check Your MINI Tire Pressure
Checking your tire pressure is a quick and easy process. If you have a pressure gauge at home or in the garage, you can quickly check all four tires in just a few minutes. It is best to check your tire pressure in the morning before driving, as driving can heat up the tires and give an inaccurate reading. As a rule of thumb, tire pressure should usually be around 35 PSI. Check your owner's manual for exact numbers, as these can vary from model to model. Checking your tire pressure is also a great time to inspect your tires. If the tread looks uneven you may want to consider a tire rotation, which will maximize the life of your tires. If the tread is heavily worn, uneven, or cracked, then it is time to invest in a set of new set of tires. Visit our online tire store to learn more, and browse available options based on your driving style.
TPMS Light On?
If your Tire Pressure Monitoring System (TPMS) light is lit up on your dash, don't worry, there may be a simple solution! It is not uncommon that during a change in seasons, especially in colder climates, that your tires will lose some pressure. While it is possible your tires could be losing air, it is most likely just a drop in pressure. As the temperature outside decreases, so will the pressure in your tires. The same goes for warmer climates, which can increase the pressure of your tires. Simply check the tire pressure at all four tires with a gauge, and re-fill as necessary to the recommended level using an air compressor. There are many portable air compressors available, and most gas stations have one on-site for customers to use. Always be sure to fill your tires slowly, to get the most accurate readings. After checking all four tires, go for a short drive to reset your vehicle's tire sensors. If your light does not go away, then it may be a good idea to visit our Conroe service center for a Pit Stop inspection.
Free Pit Stop
If you don't have a tire pressure gauge available, or need more assistance, you can always visit our service center at MINI of the Woodlands for a free 10-point Pit Stop inspection. In addition to checking and filling all four tires, we check and top-off oil, coolant, windshield washer, and power steering fluids, all free of charge! Visit our Conroe location anytime during normal operating hours, or give us a call at (936) 344-1258 to schedule ahead of time. We look forward to seeing you!
Service Dept. Hours
Mon - Fri

7:00 AM - 7:00 PM

Sat

8:00 AM - 5:00 PM

Sun

Closed